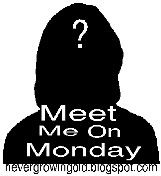 It's my first time to join this meme and this would be a great opportunity for me to get to know other bloggers.
Hmmm… let's start!
1. What are you wearing today?
I'm wearing Pajamas right now. I'm off from work because I am sick and I am just at home.
2. Do you have any freckles?
Nope!

3. What is your favorite lifesaver flavor?
Butterscotch
4. What is the last movie you saw in theater?
Tangled
5. Would you rather live without TV or without music.

Without TV. Music does great wonders for me.